You may have already noticed it, but in case you haven't, take a look over on my sidebar and you'll see a new little widget that is your link to awesome giveaways courtesy of Shelf Awareness!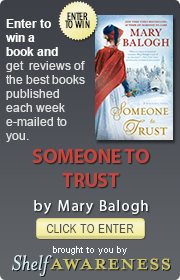 I'll let the professionals be better with words than I am:
"Shelf Awareness, the publication booksellers turn to for industry news, also offers a version for book lovers!

Shelf Awareness: Enlightenment for Readers, a free twice-weekly e-newsletter, has reviews of the 25 best books every week, author interviews, book excerpts, giveaways and more. Click below to sign up for Shelf Awareness and enter to win a great book (current subscribers are also eligible)!"
So click on through and enter to win free bookish awesomeness! Also, subscribe to Shelf Awareness. It's a great link to all sorts of important book news and they have some of the best reviews out there!